The library of the National Botanic Gardens is located in Glasnevin.
It is an important and valuable collection of botanical and horticultural books and periodicals. Primarily the library serves the staff and horticultural students of the gardens, but as it is the only library in Ireland that specialises in botanical and horticultural works many college students, botanists, and plant enthusiasts come to avail of this unique collection.
The Library is open to visitors by appointment.  If you would like to access the library, please contact us by email or phone. 
If you are interested in learning more about our collections, please see the Online Exhibitions page.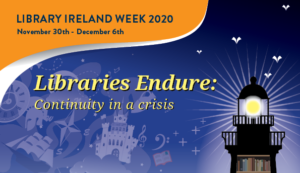 To celebrate Library Ireland Week 2020, November 30th – December 6th, we have produced a set of colouring pages highlighting our Nursery Catalogue collection.
Over the last year, staff in the library have been working towards fully cataloguing the collection and making it accessible to all library visitors. The colouring pages can be downloaded here : Nursery Catalogues Colouring Pages
 Here are some other colouring pages based on a selection of treasures from our collection : National Botanic Gardens Library colouring pages.
Opening Hours
Monday to Friday
09:30 – 13:00 and 14:00 – 16.45
Access to the rare books, archives and botanical art collection is by appointment.
If you wish to use these collections or to bring a group for a tour, please contact library staff.
Contact Us
Email :
anna.teahan@opw.ie
Phone:
+ 353 46 942 3352 .
Library Collections
The library houses a number of collections, which are listed below.
Books
The book collection contains approximately 20,000 volumes.  The open access collection is available for readers to browse and consult.  There is also a rare books collection which can be accessed by appointment.
Journals
The library receives journals by subscription, exchange and gift.  There are currently over 40 active subscriptions.
Special Collections
The special collections consist of the rare books, archives, botanical art, photographs and ephemera. If you are interested in viewing the special collections, please contact the library.
On the Library's Online Exhibitions page, you will find more information on our special collections.
Nursery Catalogues
There is a collection of Irish and international nursery catalogues held in the library.  The nursery catalogues date from the nineteenth century to the present day. A listing of a selection of our nursery catalogues is available here.