Welcome to the National Botanic Gardens – We Are Open!
During the current COVID restrictions (edited April 2021), we are pleased to welcome visitors to the Gardens, from 10am to 5pm on weekdays and 10am to 6pm on Saturdays, Sundays, and Bank Holidays (Glasnevin), and 9am to 4.30pm (Kilmacurragh), Monday to Friday, weekends, and bank holidays—until further notice. However, be warned that numbers will be restricted.
We would respectfully remind visitors to the National Botanic Gardens that under the current restrictions you may travel to the Gardens if you live within Co. Dublin (Glasnevin) or Co. Wicklow (Kilmacurragh) or, if crossing county boundaries, 20km from your home. An Garda Síochána have asked us to remind people that it is in all our interests to help reduce infection rates at this critical time.
The safety of visitors and staff is our priority, and in order to adhere to Government Guidelines there will be a limit on the numbers of visitors allowed to enter at any given time. At Glasnevin, the Car Park, some of the toilets, and Cemetery Gate have reopened but the Glasshouses, Visitor Centre, and Herbarium & Library will remain closed for the time being.
For more info on the Café, click here. Toilets are available in the Courtyard next to the main pedestrian entrance.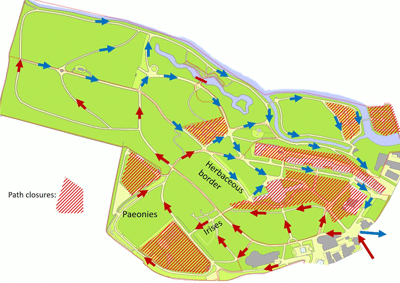 To ensure adequate social distancing we have organised separate entry and exit points and a one-way, clockwise, system through the gardens to ensure your visit will be relaxing and worry-free. The paths are marked with white arrows indicating the routes you can take around the Gardens. Here is a map of the Gardens showing the routes.
Bear in mind that there may be delays entering the Gardens. We may need to close the gardens for short periods if the Gardens reach capacity. Once this happens we will wait for some visitors to leave before allowing more to enter.
Please note that the usual rules apply: no dogs (except guide dogs), no ball games, picnics, sports, bicycles, tricycles, scooters, skateboards, roller skates, micro-scooters, balance bikes and other vehicles (except wheelchairs).
The National Botanic Gardens of Ireland are an oasis of calm and beauty, and entry is free. A premier scientific institution, the Gardens contain important collections of plant species and cultivars from all over the world. The National Botanic Gardens in Dublin are located in Glasnevin, just three kilometres from Dublin City Centre, and are famous for the exquisitely restored historic glasshouses. The National Botanic Gardens in Wicklow are located in Kilmacurragh, where the milder climate, higher rainfall, and deeper, acidic soils of this historic Wicklow garden, provide a counterpoint to the collections at Glasnevin. The two gardens have been closely associated since 1854. The National Botanic Gardens of Ireland are operated and managed by the Office of Public Works.
Online Events with the National Botanic Gardens of Ireland
We are delighted to announce a series of online talks with a great variety of speakers. Bookings are now open here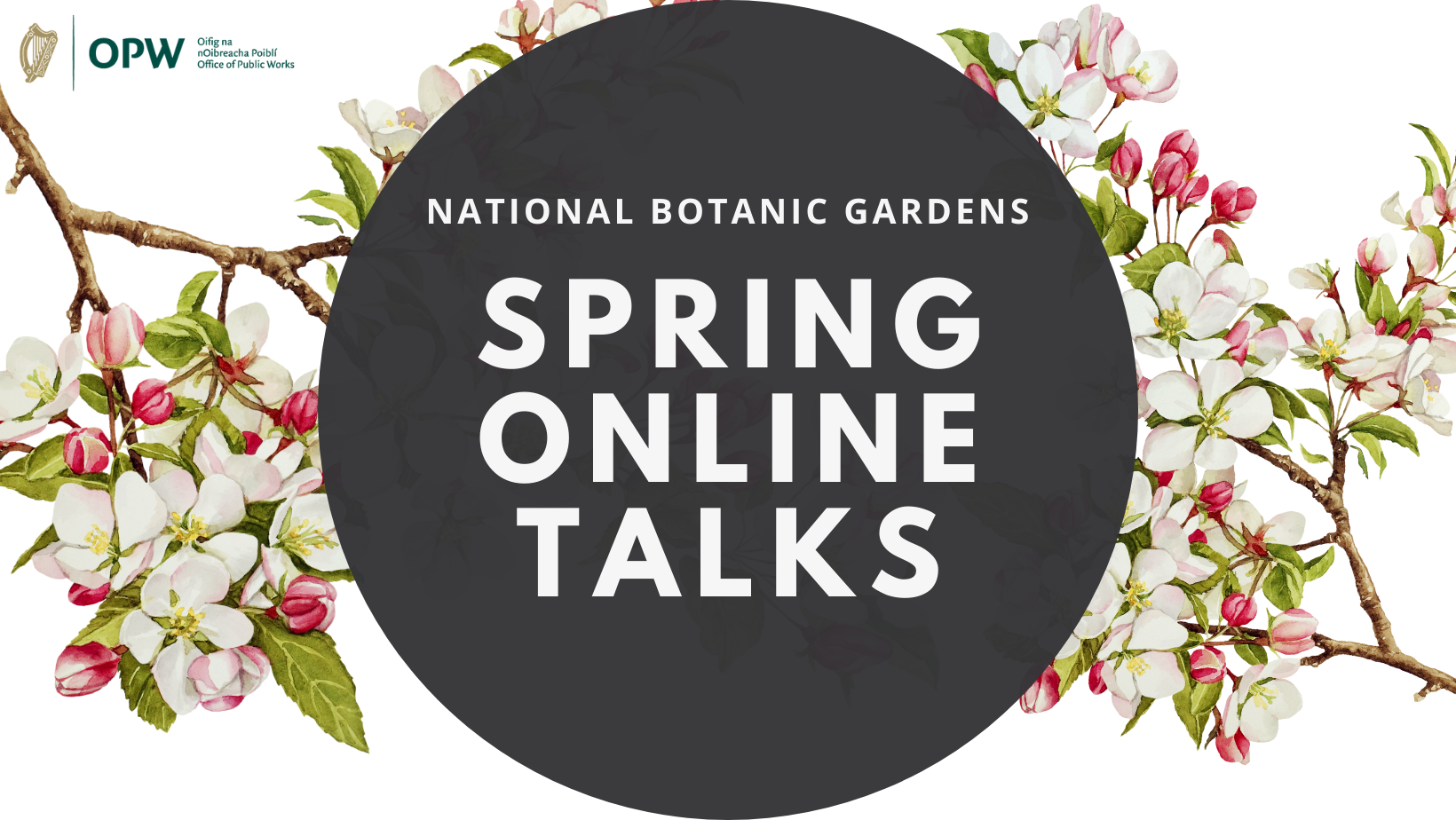 What's On
Due to Coronavirus/Covid-19 all Tours, Events and Workshops are suspended until further notice.
Please check back here for updated information. We are running online events. See Eventbrite for details and booking.
Upcoming events below and our calendar page.
The Botanic Gardens Blog
Read the latest posts below, and click through to the full Blog for all news articles and updates.
Our last video story for Rhododendron Week 2021 is with Dr. Matthew Jebb, Director, National Botanic Gardens of Ireland, and Seamus O'Brien, Head Gardener, National Botanic Gardens of Ireland Kilmacurragh. Here they...
Eye on Nature wildlife photography exhibition
RTÉ and the National Botanic Gardens of Ireland with the OPW present Eye on Nature – Ireland's newest national wildlife photographic competition.
RTÉ's Mooney Goes Wild and The Today Show launched the competition in January 2021, to celebrate the flora and fauna of our island. It received an overwhelming response, with more than 7,000 entries.
The judging panel, consisting of Matthew Jebb (National Botanic Gardens), Niall Hatch (BirdWatch Ireland) and Sheena Jolley (acclaimed wildlife photographer), chose the final 12 photographs you see exhibited here.
These photographs represent the rich natural heritage that Ireland has to offer, which has brought joy and hope to so many of us in recent times.
On March 17th Derek Mooney announced the winner live on the Today Show – Larry Doherty's Orange ladybird taken at Cabragh wetlands near Thurles – and presented Larry with the inaugural trophy and a prize of €1,000.
The images are on display outdoors in the National Botanic Gardens until the end of April 2021. Please adhere to government guidelines concerning travel.